These were the first sounds of the Stark- Linnemann quartet, which played the sixteenth movement: "The Bogatyr Gates".
These sounds took me to the painting "The Great Gates of Kiev", which I see as occupying a clear space, depicted in light, colour, line and form. The band's composition provided me with the rhythm, the colours and the sounds I used in my piece.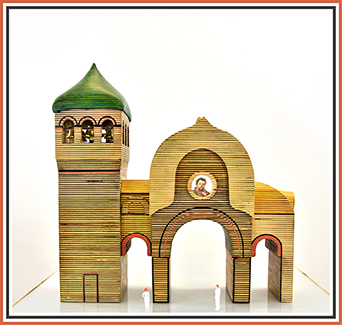 The horizontal lines form the rhythmic leitmotiv.
The sax enters the fray, with the volatile runs that swell more and more into a cacophony of sounds as heard when many people pass through a gate. The timbres and forms are also reflected in the piece.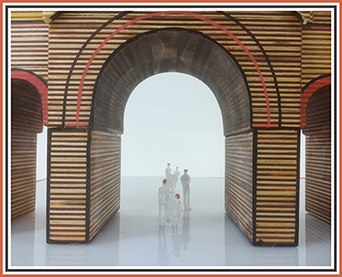 The piano section, where the clear sounds move from soft and quiet to ever louder and deeper, depicts the bell tower. There are also two portraits in my work: Mussorgski and Hartmann. Music and visual arts as a connection between two friends.